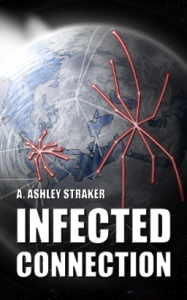 While investigating a fault plaguing the newest model of smartphone, stressed technician Simon Parfitt makes a disturbing discovery. Incubating inside the batteries are spider-like creatures, and the phenomenon is spreading.
But when Simon tries to alert the authorities, people start trying to kill him.
As paranoia sets in, Simon is reluctantly recruited in the fight against an enemy that remains several steps ahead.
People become pawns, friends become foes, and civilisation starts to crumble.
---
INFECTED CONNECTION is a high-tech thriller, in which an unassuming man is plunged into circumstances beyond his comprehension or control. He is led on a journey of thousands of miles, flung into the path of an unfathomable foe, and must ultimately ask himself how far he is willing to go, and how much he will sacrifice to see a job through.
---