I hate spiders. They creep me the fuck out. Unfortunately I'm working on a super-secret project which entailed making little spiders out of wire. It took me a while to figure out how to make these little bastards, so there are quite a few hanging around the flat.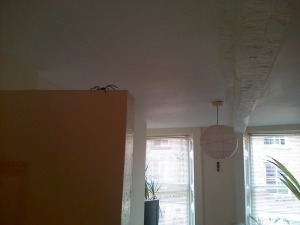 Here's one waiting to jump on my head.
Every so often I will encounter one of these – glimpse it from the corner of my eye, or knock one off the arm of the sofa onto my leg or something. And every single time my heart does somersaults, sending its pulse off for a short weekend break by the sea until I finally realise it's only one of my creations.