Updates and Bruises
My last story was in September?! Eek. Sorry. I haven't abandoned this blog, I promise. In fact, quite the opposite – I check it every day to see if I have made a new post. But mostly I haven't.
At the moment I have no internet access in my flat, which is one excuse I might give if I weren't about to tell you in this sentence that the real reasons are mostly because I am lazy and/or doing other things. So at this moment I am sitting with a coffee in the café in which I work, plainly not doing café -related work, consuming the wi-fi bandwidth almost as greedily as I am consuming my coffee – which is to say that I hadn't thought this metaphor through before I started it.
Anyway. NEWS!
I have a new bruise! I have previously written about unexplained bruises, but this one I can explain.
It's not exactly discreet, my current bruise. It runs vertically down my forehead, sticking out from the surrounding terrain like a high-capacity runway at a major international airport. If somebody wanted to land on my head, they would know exactly where they needed to be.
Nobody landed on my head, by the way – that's not how I got the bruise.
It doesn't hurt much, unless I poke it with my finger – which I do quite regularly, to see if it hurts. It's hurting right now, because I am poking it.
The bruise came about yesterday, and is actually a symptom of problems I've had for a while now. Only those closest to me know about my conditions, but they are getting hard to hide – especially with this giant red contusion chilling out over my face, getting in the way of my desire to wear a hat, looking down girls' tops and generally being a jerk.
The problems in question are:
Faulty proprioception
A deficiency of short term memory
Stupidity.
You see, there is a big metal thing above the door in this café, that I saw, noted, used as a handle, and was generally fully aware of – and then there was my head. Not ten seconds after my encounter with the big metal thing, I tried to insert my head into the same physical location that the big metal thing occupied – and would always occupy, for 'tis a stationary big metal thing.
This resulted in a violent impact heralded by a comical doink noise, my immediate rejection from the vicinity of the big metal thing, humiliation, and ultimately this large contusion, as illustrated by these typically technical drawings of mine: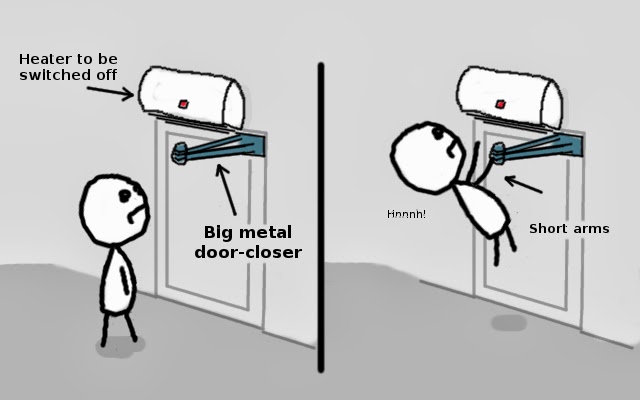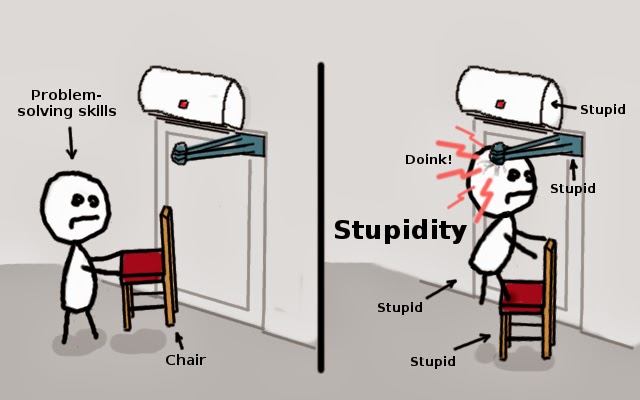 The moral of this tale is: when doing simple things that should result in no injury whatsoever, don't be me.
In other news, and partly to blame for the lack of posts here recently, I am working on a longer Ash-Matic project – a particularly stupid and pointless interactive story, where you as the reader get to experience being as stupid as me. Doesn't that sound like fun? I know, right?
Also, there's a spider in it.
And it has super powers.
So far the thing is over 100 pages in length, and I haven't even started the so-called art.
So, watch this space, or don't, for news, or lack of it!
But I will post more stuff soon in any case.
Promise!